Healdsburg is a thriving city located in Northern Sonoma County, in the Wine Country of California. With a population of fewer than 12,000 people, Healdsburg punches above its weight when it comes to matters of investments in real estate, wine, and food sectors. Notably, Single Thread in Healdsburg was ranked #37 in the list of the best restaurants in the world.

Healdsburg is quite a unique region in every sense. If the city of Healdsburg were to be separated from the state of California, the city would be entirely self-sustaining. Healdsburg has almost everything you may need—agriculture, dairy, wine, meat, and high levels of employment, especially in top-earning industries such as technology and healthcare.

That said, all of these factors would make Healdsburg the ideal place for residents and foreign investors. However, there are numerous other reasons why you should consider investing in this city. This post will discuss these reasons and highlight some of the key trends of investments in Healdsburg.

Whether you're a first-time investor looking to buy your first piece of real estate or are a veteran investor looking to increase your portfolio, we certainly think that you should invest in Healdsburg. Read on to find out more about investing in this city in Northern Sonoma:
Reasons to invest in Healdsburg
Strong Economic Factors
Finding cheap property investments in other markets can be fun, but if the local economy fails to perform, you won't realize any substantial profits. Purchasing property in the city of Healdsburg is quite costly. Luckily, its economy makes it worthwhile to have a successful investment even after you've spent a huge chunk of money acquiring it.

The employment industry in Healdsburg is booming at the moment, as a myriad of companies arrives in the city each year to invest in this community. These companies provide high-paying employment opportunities to the residents and also significantly increase the amount of capital flowing through Healdsburg's towns and cities.

Healdsburg has consistently had a flourishing and powerful tourism economy which has led to a prospering hospitality industry. However, the investment market is very dynamic, with more opportunities coming up regularly. Presently, there is a wide array of lucrative investments in the medical and financial industries, as well as construction and technology. What's more, the community also supports creative arts.

High Quality of Life
People enjoy living and working in Healdsburg, which makes it the ideal place to invest your capital. The region is close to the mountains and the coast, and there's a blossoming creative and culinary scene. The schools are excellent, and numerous desirable neighborhoods have a high demand among tenants. New construction projects are consistently in progress, and this can be attributed to the growth of the local population.

For property investors, these factors mean that the pool of tenants is steadily evolving. It means you'll always have people who are interested in renting a desirable piece of property. The majority of these tenants are mainly millennials who don't want to permanently purchase a property in Healdsburg yet. Therefore, if you invest in Healdsburg, you don't have to worry about having a high number of vacancies.

Property Has a High Value
The values of property in Healdsburg are quite strong, and there aren't many reasons to show that this trend will slow down in the future. Presently, Healdsburg is not the ideal place for investors to purchase a home and flip it. However, if you're looking to purchase property in Healdsburg to hold for a considerable time frame, you'll realize that you can make handsome profits from your investment.

Purchasing property in Healdsburg and then renting it out is a great way to invest in the real estate market for multiple reasons. Not only will you have high-value tenants contributing to your mortgage and paying for your expenses, but you'll also realize that your property will be worth more five to ten years from now.

In the US, there are a plethora of markets where you can acquire property for less than $100,000, which can be hard to beat. However, if you're looking for long-term investments and market stability, then Healdsburg could be your best opportunity to invest. Living in this city feels special, and mammoths of people from all across the globe visit every year.

When you opt to invest in the Healdsburg property market, you can be certain that you've made a smart decision for your investment.
New Developments in Healdsburg
As mentioned in the introduction, Single Thread in Healdsburg was ranked #37 among the world's top restaurants. Although the restaurant opened its doors about six years ago, it ushered in a completely new era of investments and developments in the region.

With so many new, innovative projects going on in the wine, food, and property markets in Healdsburg at the moment, it's an exciting time for visitors and residents alike.

Let's discuss some of the new developments in Healdsburg:

Montage New Hotel & Residences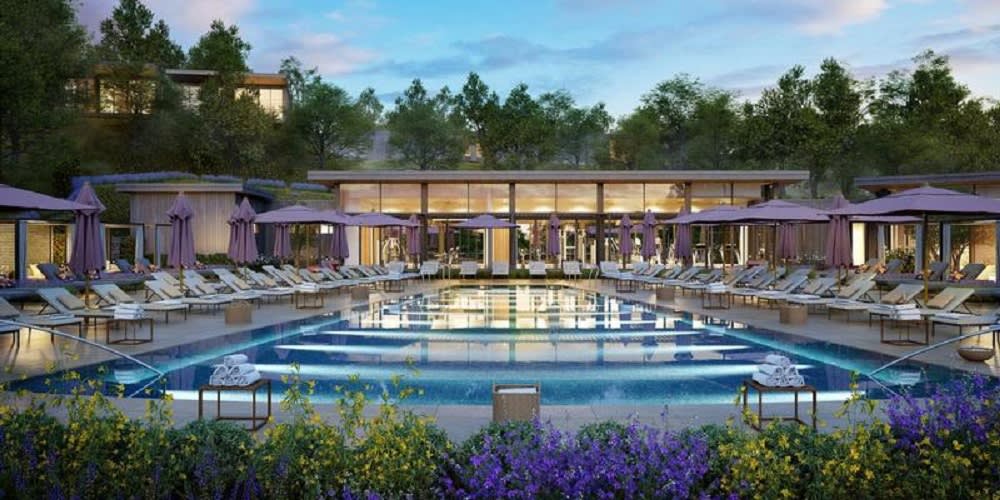 Image courtesy of Montage
Montage has been in operation for more than six months and has been received quite well. Besides offering dining and hotel services, Montage also owns more than 40 private residences that are presently being advertised for sale. They have sold over 15 estate homesites with 40 others available for sale, and 11 of these units have been reserved.

Mill District Hotel & Residences
This is an enormous new construction, and it's the last significant construction at its scale. This establishment consists of three phases of residential houses as well as a luxury hotel. The Garden homesites have a private yard with a plunge pool and top-floor penthouses that are worth around $7 million.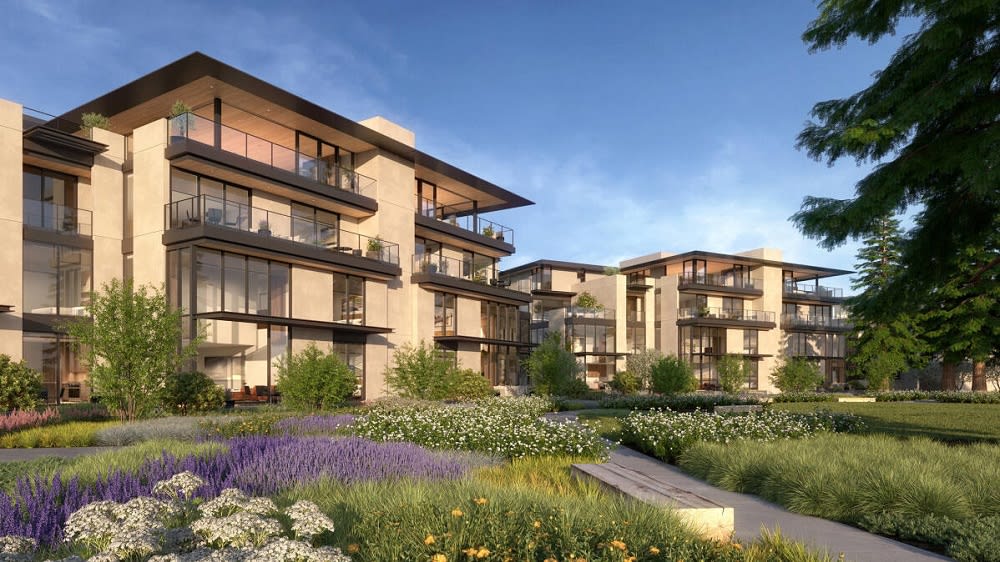 Image courtesy of Mill District Residences
This project will be designed to reflect the cultural values of the Mill District. One of the key features of this region is its love for cycling as one of the main pillars that dictate the local lifestyle. Besides embracing cycling, Mill District has a blossoming local food industry. Those who buy property in one of those 39 residences can work collaboratively with Single Thread chefs to design the wine cellar and kitchen of your home.
Enso Village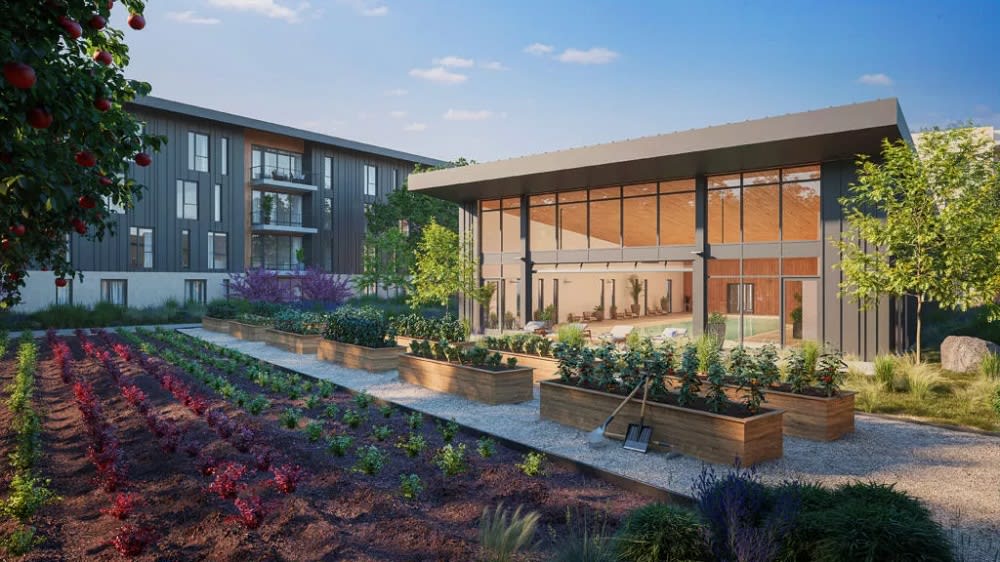 Image courtesy of Enso Village
This project is under construction and slated to open in 2023, and they're currently taking reservations for future residents. The core of this development is to create a zen community where it's possible to age gracefully and independently. It sits on a stunning 15-acre property that will feature a community garden, meditation spaces, workout classes, educational experiences, a performance venue, and alfresco dining. It's a sleek space that focuses on the well-being of its residents.
Ready to invest in Healdsburg?
Sonoma County is a serene-yet-productive region of California, and it has multiple factors that make it a suitable place for investment. There are strong economic factors such as thriving tourism, construction, technology, and medical industries. This means the residents around Healdsburg earn a decent living, so you will never lack buyers or renters.
The quality of life in this city is high, which means that if you invest in this area, you won't have to worry about how you'll attract tenants to your property. Moreover, the houses in Healdsburg tend to appreciate significantly over several years. Therefore, if you're looking for a long-term portfolio to invest in, then investing in Healdsburg property may turn out to be quite lucrative in the long run.
The recent development projects being carried out in Healdsburg are also playing a crucial role in shaping the investments of the city. More structures are being developed, and the existing ones are being remodeled. This is evidence that the region has immense potential and returns for investors and property owners.
Ready to invest in Healdsburg? Contact
Kevin McDonald
for expert guidance in order to make your real estate journey run seamlessly.

*Header photo courtesy of Interior Design